Things to Do this Weekend!
ptdoctor
Friday:
Glorious Technicolor
In honor of the 100th anniversary of the invention of Technicolor by George Eastman House, the MoMA is showing a series of films that exemplify the vibrant early color films, particularly those made between 1922 and 1955.
DETAILS: Museum of Modern Art (MoMA), Midtown West Until Wednesday August 5 2015
$12, free Friday afternoons
"Yoko Ono: One Woman Show, 1960–1971"
Before Yoko Ono became inextricably linked with John Lennon—and disparaged as the woman who "broke up" The Beatles—she was an artist, with a career stretching back to the early 1960s. Ono never stopped making her work, which in recent years has been re-introduced to art-world audiences, but his exhibition puts her efforts into historical context.
DETAILS: Museum of Modern Art (MoMA), Midtown West Until Monday September 7 2015
$25, seniors $18, students $14, children under 16 free. For discounts, order tickets in advance at mo
Saturday:
MoRUS Film Festival, I Heart Anarchy
Fight the power with this weeklong festival from the Museum of Reclaimed Urban Space (MoRUS) that examines both anarchy's history in the Lower East Side and different aspects of its ideals. The films and oral histories presented each night will cover a different theme like "Sustainable Activism," "Immigrants, Anarchism & the USA" and "Bio Terror, Manufactured Fear & State Repression."
DETAILS:
Brooklyn Flea-Fort Greene
Arguably the granddaddy of the borough's slate of bazaars, the Fort Greene Brooklyn Flea is in full swing for the summer. The location is jam-packed with more than 150 vendors shilling retro jewelry, tchotchkes that everthing you don't need (but want anyway). We're especially excited about spots like chic handmade-clothing shop Kika NY.
DETAILS:  Brooklyn Flea , Bedford-Stuyvesant 176 Lafayette Ave Brooklyn, Sat 10am-5pm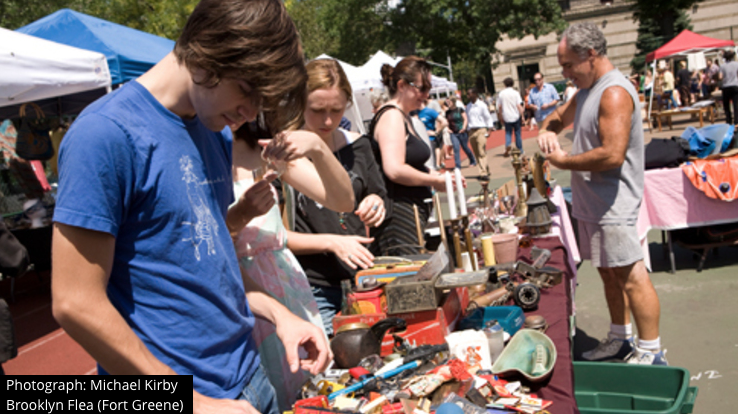 Sunday:
Frida Kahlo, "Art, Garden, Life"
Botanical subjects were a running theme throughout the work of Frida Kahlo. The art-historical icon maintained an ornate garden just outside her studio that inspired much of her art. That connection is explored here in this tribute to the artist, which includes a replica of her garden and a display of paintings related to it.
DETAILS: New York Botanical Garden , The Bronx Tuesday August 4 2015 – Sunday November 1 2015
Harlem Week
Harlem's historic community's rich artistic heritage in on full display during this "week" (actually more like a month). It opens with showcases for Harlem's gospel, fashion, restaurant and culture scenes at the all-day picnic Great Day in Harlem at the General Grant National Memorial. The festivities continue with free concerts, a 5K run, and an expo and a fair of small businesses in the area.
DETAILS: Tuesday August 4 2015 – Saturday August 22 2015 (FREE)